Facilitator and Group Process Consultant
Upcoming Events
Click on an event title for a fuller description.
Sign up for our email list to be notified of new events!
Workshop & Lecture Descriptions
Eris is available to bring these, and other workshop topics, to your organization or community! Any of these can be delivered in lengths from a 20 minute lecture to a full day workshop. Contact us for details.
Testimonials
"Because of Eris' light-hearted yet empowering improv class, I've gained a noticeable measure of confidence in my business networking. "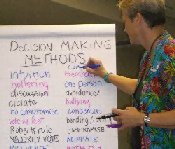 "Eris helps us shake things up, get out of our ruts, and expand our ways of communicating and connecting with ourselves and each other. Taking her course has helped me relax a lot more, which has led me to giving better presentations! Eris is top notch!"
"Whenever I need clear, concise direction for conflict resolution I call Eris. Her depth of knowledge, compassion and clarity guides me to the highest outcome, every time. Eris has been the key note speaker at my women's networking organization and always receives rave reviews. She provides practical steps that can be easily implemented to enhance each person's life and business."